City releases per-pupil spending figures
Report shows how much NYC schools expect to spend on each student
Photos
A back-to-school fact as New York City students return to class this September: the amount of money the Department of Education spends on each pupil can vary dramatically from school to school.
On the Upper East Side, for example, P.S. 146 on East 106th Street is projected to spend nearly $34,000 per student this school year — well above the citywide average of $24,173 — while P.S. 77, located nearby on Third Avenue at 96th Street, will budget just $17,681 per student.
The two elementary schools are less than a mile apart and have roughly the same number of students, but P.S. 146 receives nearly twice as much money per pupil as a result of the city's Fair Student Funding allocation formula, which is designed to distribute funds on a weighted basis to students who require the most support. Under the Fair Student Funding formula, schools receive extra funding based on the number of pupils that fit into certain need categories, such as English language learners, students in poverty, students with disabilities and students whose standardized test scores are below grade level.
Detailed budget projections for every New York City public school were made public by the Department of Education just before the start of the school year in response to a new state transparency law passed last spring.
The graphic published here shows per-pupil funding for K-5 elementary schools in our coverage area. (Figures include certain central district costs, such as pension payments.)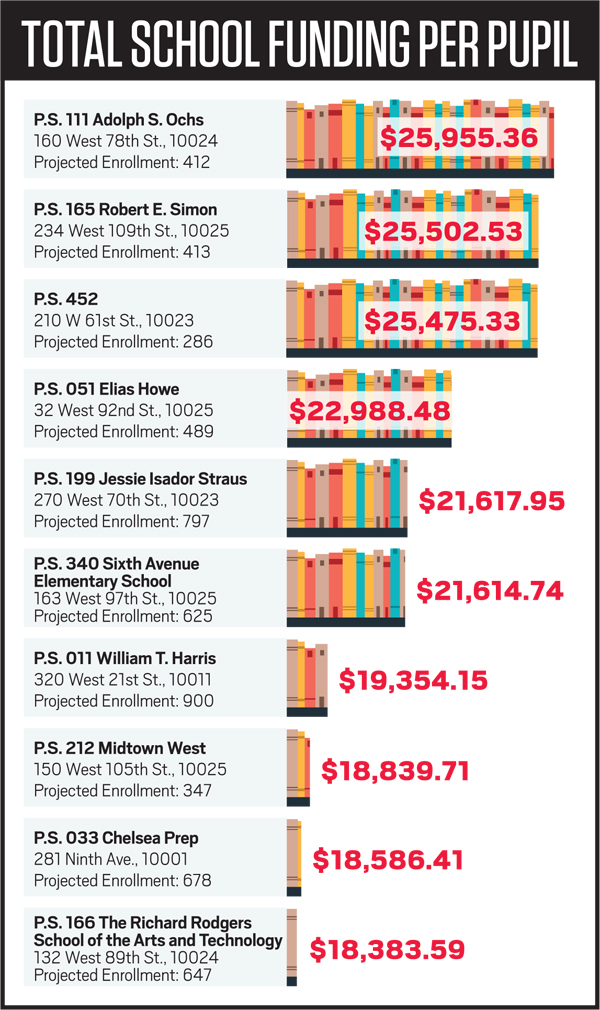 Graphic: Caitlin Ryther
Comments
MUST READ NEWS
VIDEOS
---